An Alabama Lake House with a Sense of Place
WRITTEN BY RONDA SWANEY
PHOTOGRAPHY BY ©JEAN ALLSOPP
"When you walk in the main level, it feels like you're floating on a boat in the water," says designer Jan Ware of her family's weekend getaway house. Ware's eponymous interior design firm joined Richard Long of architecture firm Long & Long Design, both of Birmingham, Alabama, to craft the perfect retreat on Lake Martin.
"With this house, we had an opportunity to capture magnificent views," explains Long. "The idea was that it should be breathtaking when you walk in. Surrounded by the water, you know immediately that you're at the lake."
Originally, there was an older octagon-shaped house on the lot that had to be torn down and removed before construction could begin. For the new house, Ware had specific goals. "I wanted all the main rooms and bedrooms to have a lake view," she says. "I wanted it to feel open yet cozy, but with no wasted space. I wanted it to be comfortable for us and our guests."
Choosing the best position for the house was one of the most important steps in achieving those goals. "Before the foundation was poured, when the surveyor had staked the house, my husband saw it and said, 'Nope, we're going to move it closer to the water and shift it so that we have the sunrise on the left and the sunset on the right,'" says Ware. "The position of the house was probably our best decision because it made such a difference in how the home feels."
The expansive water views made nautical design touches a natural choice. A porthole in the front door is the first clue you've arrived someplace special. "I call that my porthole to peace," jokes Ware. Painted wood ceilings and white oak floors feel almost like ship decking. Bright-brass fixtures hint at naval brass, which is designed to fare well at sea. Casement windows in the kitchen bring in fresh air and the sounds of lake life. Floor-to-ceiling windows surround three sides of the great room, from which you see only water, distant shoreline, and open sky. Two outdoor decks—one covered and one uncovered—flank the great room and their cable railings provide unobstructed views of the water.
Perhaps more than other residences, vacation homes demand a sense of place. Locales in tune with their surroundings inspire rest and conjure pleasant memories. This home's dark gray and stone exterior offers that sense of place. The structure appears to rise effortlessly from the site's natural grade. The stone seems to emerge from the earth, while the gray tones of the siding and roof contrast with the surrounding greenery and complement the lake's still waters.
The same sense of place carries into the home's interiors. "Using materials in their natural state helps you never forget where you are," says Long. Reclaimed wood planks were fashioned into closet doors and coffee tables. A slab of centuries-old wood serves as the dining table. Whites, grays, and wood tones let the lake view take center stage. Greenery comes to play in plants, flowers, and the natural tones of artwork found in every room.
Ware's professional motto is turning homes into havens. Naturally, this philosophy guided the creation of her own space. "It's inviting and comfortable and somewhere you can breathe," says Ware of her family's Lake Martin home. "It's a place you can exhale."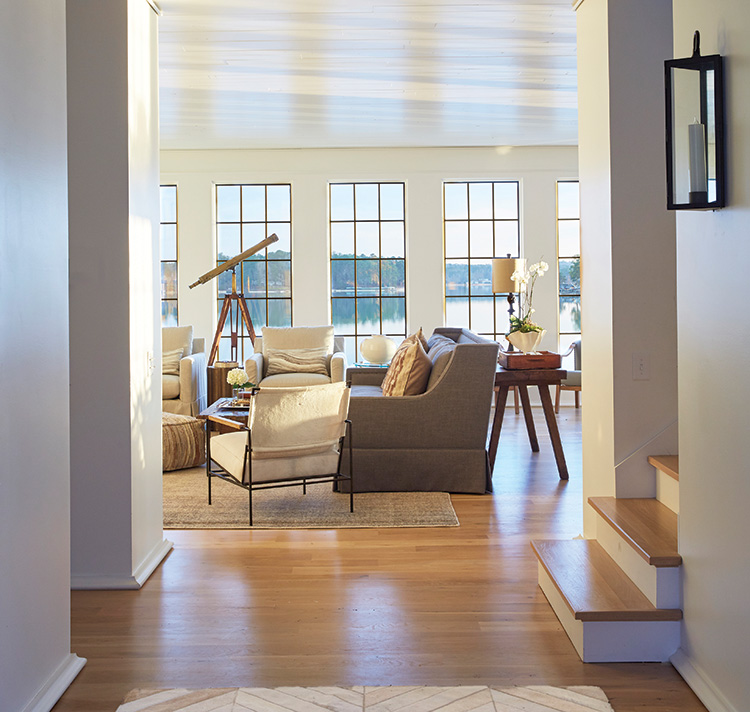 Room to Relax
New builds, remodels, and redesigns provide the opportunity for you to reevaluate how you use your space. The following tips help create room to relax and unwind in your own home.
Declutter and chill. Adding under-bed or garage storage and replacing physical books with e-books are easy ways to create more room in your home. Less clutter lightens the load, physically and mentally.
Forego formality. Do you really need an office or a formal dining room? If not, dismiss the need for these prim rooms and embrace the space for family gatherings and informal dining.
Easy care means easy living. Choose performance fabrics and floors that can withstand heavy use. It's easier to relax at home without the worry that children, pets, or guests might damage furniture or finishes.
Create special spots. Set up a cozy reading nook, a backyard fire pit, or a sitting area in the master bedroom. Intimate spaces let you unwind and can be your refuge from worry.
---