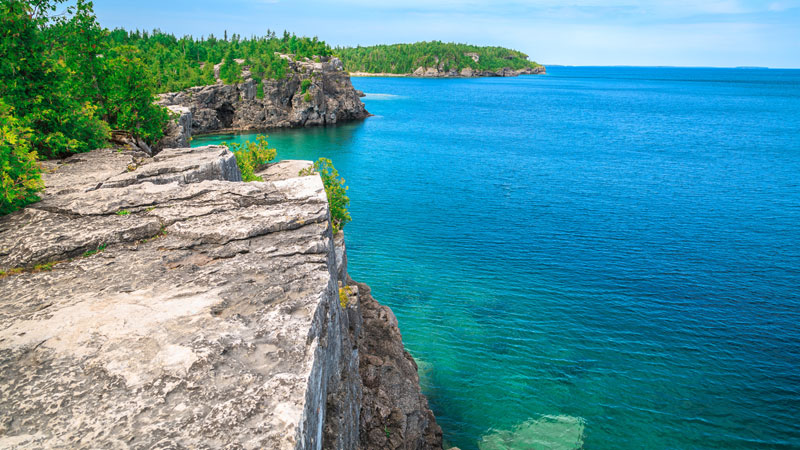 How rare it is to find a community that is known not just for its numerous winter and summer activities and love of the great outdoors, but also its vibrant arts and culture scene. This is the Northern Bruce Peninsula, at the end of Bruce Peninsula that stretches into the waters between Lake Huron and Georgian Bay. The main locales in the municipality are Lion's Head and Tobermory. There are also a number of smaller communities that make up the Northern Bruce Peninsula including Clarke's Corners, Hope Bay, Ferndale, Miller Lake, Dyer's Bay, Pike Bay, Barrow Bay, and Stokes Bay. It is easy to see why people are drawn to this area both to play and to stay.
Real Estate in Northern Bruce Peninsula
In the Northern Bruce Peninsula the real estate is as varied as the communities themselves. It is still possible to find original log cabins, farmhouses and historic stone cottages that date back to the last century. Yet just around the corner from these are modern retreats, lovely chalets and stately homes whose architectural features are designed to maximize incredible views of the water. There are newly developed luxury communities in the Northern Bruce Peninsula, like Greenough Harbour, where buyers have the option of being involved in their home's design. For those considering building their dream home, there are many wooded lots available with water views or shore frontage. The median price for homes on the Northern Bruce Peninsula is presently $375,000.
Living in Northern Bruce Peninsula
There are many great things to do here, which is why it's such a popular vacation destination, but this is also a wonderful place to live. More than just incredible activities, there is a strong sense of community in Northern Bruce Peninsula, which can be seen in its neighbourhood events and strong, diverse local economy. Students attend school at either St Edmund's in Tobermory until grade 6 and then attend the Bruce Peninsula District School in Lion's Head or begin at BPSD. BPSD is one of the few remaining schools in Ontario that offer grades K through 12 in the same building.
Explore unique art galleries in Tobermory, enjoy imaginative dining in Lion's Head, admire the flowers during Bruce Peninsula Orchid Festival, or go on a diving adventure in Fathom Five National Marine Park. In the Northern Bruce Peninsula life can be just as exciting or as peaceful as you choose it to be.
North Bruce Peninsula Real Estate, Homes and Cottages for Sale
Let me introduce you to the communities in the Northern Bruce Peninsula and the way life should be. Call me today at PEAK® Point Real Estate Brokerage to set up a showing of the fine cottages and homes that are available.
Featured Areas: