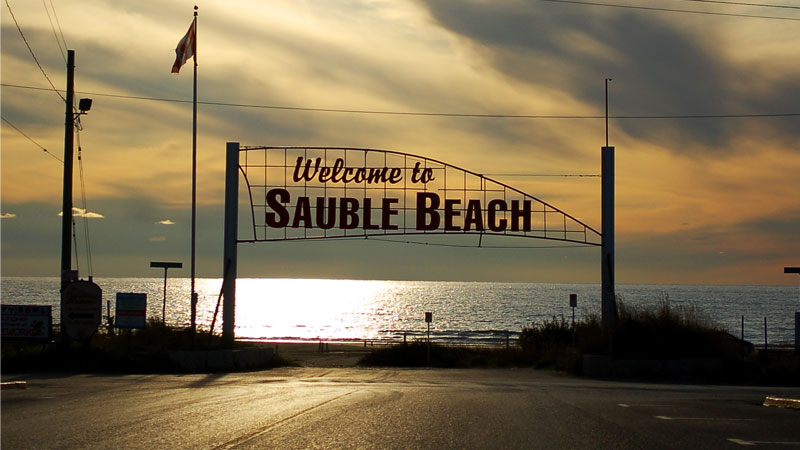 Enjoy beach life on the shores of Lake Huron in the charming town of Sauble Beach, voted the #1 beach in Ontario. Sauble Beach is both a lovely vacation destination and a great place to consider living year-round. This vibrant community manages to combine the beauty of the lake shore with shopping, restaurants, and services.
Real Estate Sauble Beach
Charming cottages, bungalows and camps cluster along the beaches and the forest and are a retreat from the hustle and bustle of a typical regular routine. Lovely single-family homes incorporating beautiful contemporary and traditional architecture are designed for four-season living. Sauble Beach has a hot real estate market and prices range from the $200,000s for a summer cottage to the upper $500,000s for a spectacular property on the lake shore.
Living in Sauble Beach
While it is a resort town and a fantastic place to vacation, Sauble Beach still has all the amenities from hardware stores and a medical clinic to excellent restaurants and unique shopping. It is easy to imagine living here both part-time and as a full-time resident. Students from Sauble Beach attend the newer facility of Ambel-Sauble Community School for kindergarten through eighth grade. High school students attend classes at nearby Peninsula Shores District School in Wiarton. PSDS has the distinction of being ranked one of the top-performing schools in Grey and Bruce counties.
Whether in the summer or winter, the beauty of the lake shore is what draws people to this natural wonderland. The eleven-kilometer length of beach is clean sand and warm water and is the place to be for swimming, boating, fishing and water sports. Summer is an exciting season in Sauble Beach with the annual sandcastle contest, street dances, and beach volleyball. Since 2007, the town has been the site of the annual Sauble Beach Festival of the Classical Guitar, which draws musicians from around the world. Summer isn't the only season to enjoy here on the banks of Lake Huron, in January Sauble Beach also holds its popular Winterfest.
In addition to the spectacular beaches, the town is also home to a fantastic park system. Sauble Falls Provincial Park is a destination for hiking, camping, having a picnic and fishing – it's especially popular when the rainbow trout and Chinook salmon are running.
Sauble Beach Real Estate and Sauble Beach Cottages for Sale
If you are interested in watching the sunsets over Lake Huron from the porch of your own cottage, call me at PEAK® Point Real Estate Brokerage to arrange a tour of the lovely properties of Sauble Beach.
Featured Areas: