strawberry & coconut-milk popsicles
Makes 8 to 10 popsicles
1 quart fresh strawberries, washed and hulled
1 (15-ounce) can whole-fat coconut milk
8 ounces sweetened condensed coconut milk
1 teaspoon vanilla extract
In a blender or food processor, add the strawberries, coconut milk, sweetened condensed coconut milk, and vanilla until thoroughly combined.
Add the mixture to popsicle molds with popsicle sticks and freeze for at least 24 hours. Take them out of the freezer a few minutes prior to serving.
---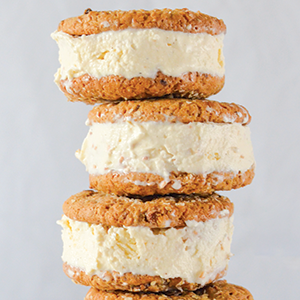 OATMEAL RAISIN & BUTTER RUM
ice cream sandwich
Makes 6 to 8 sandwiches
2 cups heavy cream
1 cup whole milk
¼ cup butter
¾ cup brown sugar
¼ teaspoon ground nutmeg
3 egg yolks
¼ cup granulated sugar
¼ cup rum
12 to 16 large oatmeal raisin cookies
In a saucepan over medium-low heat add the heavy cream, whole milk, butter, brown sugar, and nutmeg. Heat just until the ingredients are combined and the liquid comes to a boil. Take the pan off the heat.
In a large heatproof bowl, whisk together the egg yolks and granulated sugar until the mixture is light and fluffy.
While whisking the egg mixture, slowly drizzle a thin stream of the warm milk mixture into the egg mixture. This will temper the eggs so they don't turn into scrambled eggs, and it will create the custard base for the ice cream.
Place the mixture back into the saucepan over low heat, stirring, until the mixture begins to thicken, about 5 minutes. It should lightly coat the back of a spoon. Do not let the mixture come to a boil or it will curdle. Take it off the heat and then let it cool.
Once it is cool, stir in the rum and then cover and place in the refrigerator overnight. When the custard is completely chilled, give it a stir and then add it to the chilled ice cream maker insert and process according to your ice cream maker's instructions. It usually takes about 20 to 30 minutes.
Once the ice cream is done, place it in an airtight container and freeze for several hours.
To make the ice cream sandwiches, place one scoop of ice cream between two oatmeal cookies, pressing down just a bit to secure the sandwich. Continue to make the ice cream sandwiches and either serve immediately or place them in an airtight container in the freezer and serve when desired.
---