Born in London and having lived and traveled throughout Europe, landscape designer Sacha McCrae, founder of Living Gardens Landscape Design, brings a European flair to the gardens she designs from her current home base in Orange County, California. While it's tricky to pull off the traditional herbaceous borders of an English cottage garden in the arid Southern California climate, the designer relies on the same principles of structure and softness but with far less thirsty plants. "We use a selection of low-water plants that include grasses for softness and movement, succulents and evergreen plants for structure, and long-blooming perennials for year-round interest and color," says the designer. She's found that this planting scheme alongside classic hardscape materials such as pea gravel, cobbles, and natural stone can bring old-world charm to California gardens.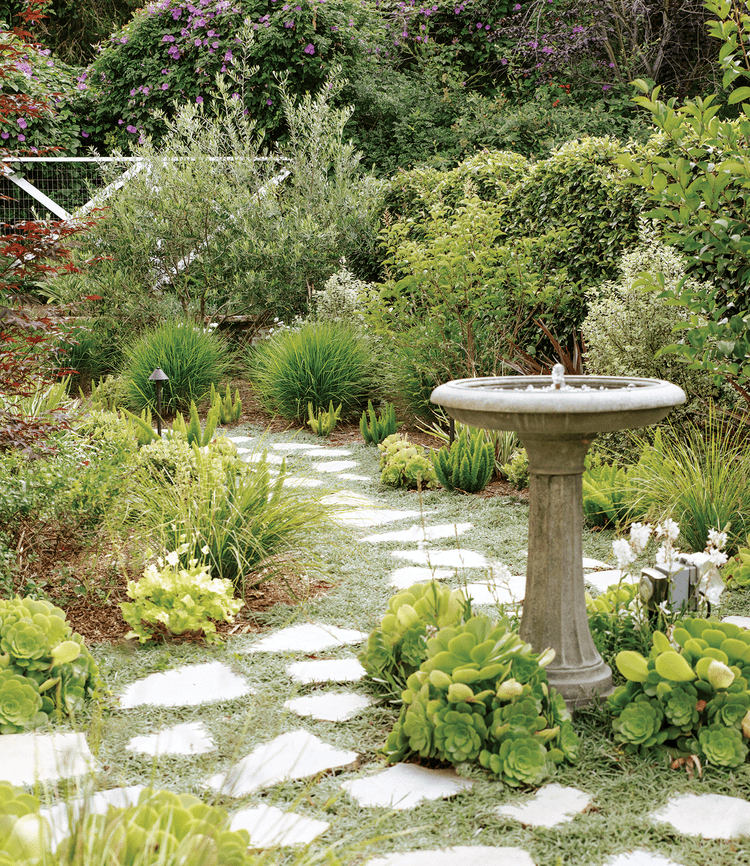 A cottage-style path of flagstones and low-water ground cover Dymondia 'Silver Carpet' leads around the side of the garden.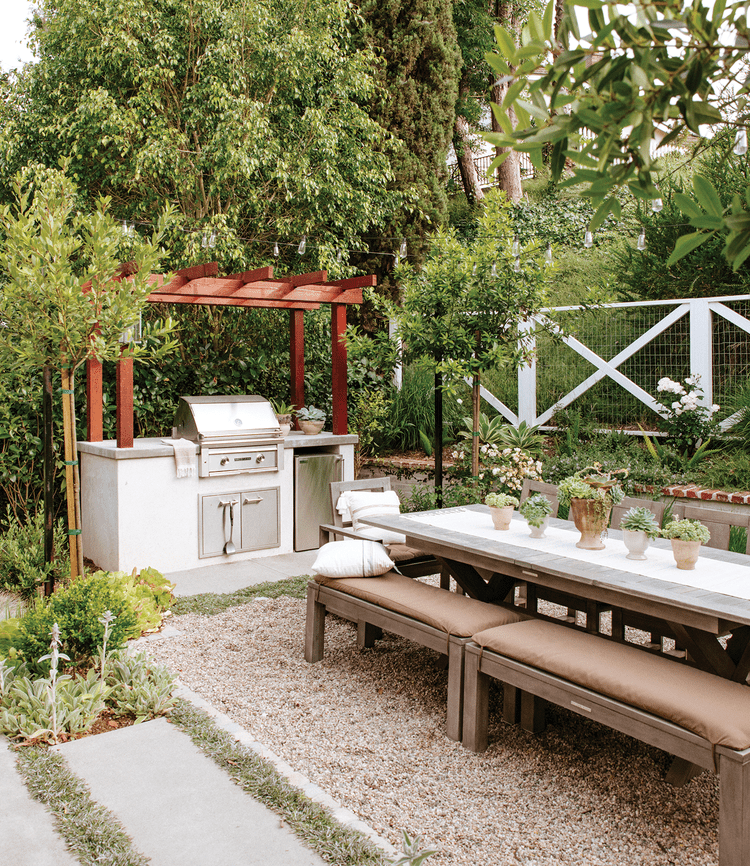 The outdoor kitchen and backyard dining area.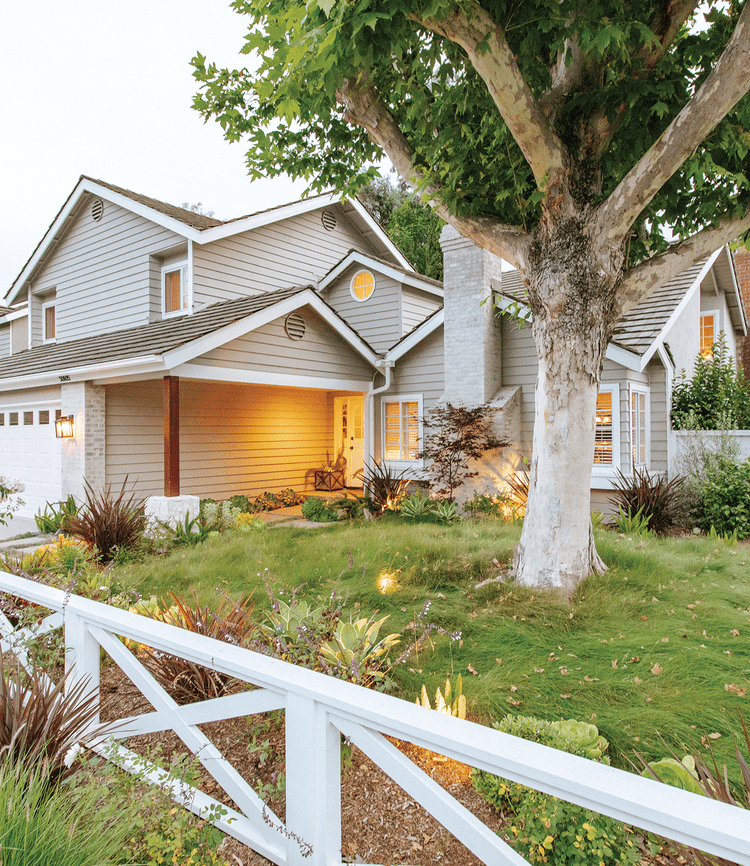 In the front yard, the designer stuck to a simplified plant palette of ornamental grasses, asparagus ferns, foxtail agave, Mexican sage, and Sally Holmes roses.
This style of landscaping resonated with a couple in Laguna Niguel, a coastal community south of Los Angeles, who were eager to update the garden surrounding their 1979 tract home to one that would feel elegant and timeless. In the front yard, they hoped to boost curb appeal; in the backyard they wanted a year-round space to entertain friends and enjoy meals. The original backyard had a too-small brick patio and a retaining wall topped with a tired planting of succulents surrounded by bark mulch. "[Homeowners] Russ and Karen love to entertain but were finding it difficult to make the existing backyard space work for them," says McCrae. For the new backyard, a dining table that could seat eight to ten people was top of the list, as well as a water feature, fire feature, built-in grill, and shaded areas.
McCrae proposed a design with soft plantings and subtle colors that would complement the home and a series of outdoor rooms. In the front yard, the slope was gently regraded to create steps leading up to the front door along with a new pathway of poured-in-place concrete pavers planted with low-water groundcovers. A stained cedar arbor set on limestone bases frames the entry and provides a structure for a romantic tangle of Sally Holmes climbing roses. "It's a repeat-flowering rose vine that can grow to ten feet," says McCrae. "It has large, creamy-white flowers that attract bees." Other plants in the front yard include a bronze Japanese maple and mounds of ornamental grasses (taller Pennisetum 'Fairy Tails' and smaller Festuca glauca 'Elijah Blue') alongside perennials such as purple-flowering Mexican sage, asparagus ferns, and clumps of rosette-forming aeoniums. McCrae seeded the lawn with a no-mow grass blend, which has a meadow-like growing habit and needs less water than traditional turf.
In the backyard, out went the brick patio and in came a series of outdoor rooms that flow together. This design makes each room feel intimate for the couple and open enough to host larger groups. The largest of the outdoor rooms is a 150-square-foot dining area inspired by the gravel courtyards of Europe. A ten-person trestle table sits below strings of twinkling café lights, bordered by a formal planting of bay trees (with edible leaves), which will grow to partially shade the seating area. The outdoor kitchen, located to the left of the dining area, features a stainless-steel grill built into a concrete-slab counter with a fridge and under-counter storage.
On the right side of the dining area, McCrae designed a lounge around a new gas-burning outdoor hearth made from a combination of stucco and limestone veneer with built-in ledges for sitting or resting a drink. A cedar pergola topped with bamboo screens shades the entire area. To the right of the shaded lounge, a flagstone pathway leads to the side yard through varied foliage-based plantings of velvety lamb's ears, silvery olive trees, feathery Lomandra longifolia 'Breeze,' dwarf karo (Pittosporum crassifolium 'Nana'), and more asparagus ferns and aeoniums. Eventually the pathway culminates in a recirculating fountain centered on an additional seating area with a small café table.
Whether relaxing solo or entertaining, the couple has enjoyed spending time in their peaceful retreat and watching the plants change subtly from season to season.
sense of place
Stick to a short list of repeated plants. "Consider using a small palette of plants and repeating them throughout the garden," says designer Sacha McCrae. "This creates cohesion throughout the space and feels more tranquil." Rely on foliage plants with one or two flowering colors to create a sense of calm.
Add focal points. A bench, fountain, or container gives the eye somewhere to land. McCrae purposely places focal points at the ends of pathways and where windows and doors face the garden.
Give each space a purpose. Think about how you would like to use different garden areas and design accordingly. "Have a clear plan before breaking ground!" she says.
Create cohesion with the home. Visually tie home and garden together by repeating colors and materials. "If you have white trim, paint your fence or walls white," she says. "If you have a more modern black trim, use a black wall or fence to connect the landscape to the home."
---