Roasted Brussels Sprouts with Parmesan Cheese
Serves 6
1 pound brussels sprouts, rinsed, ends trimmed and halved
3 tablespoons extra-virgin olive oil
½ teaspoon salt
1 teaspoon black pepper
½ teaspoon garlic powder
1 tablespoon maple syrup
½ cup grated Parmesan cheese
Preheat the oven to 400 degrees F.
While the oven is heating, place the baking sheet in the oven. In a large bowl toss the brussels sprouts with olive oil, salt, pepper, garlic powder, and maple syrup.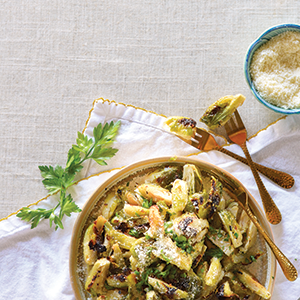 Remove the baking sheet from the oven and then add the dressed brussels sprouts to the baking sheet in a single layer, cut side down. Place them in the oven for about 15 minutes. Then remove them from the oven, and with a spatula, toss them with the Parmesan cheese.
Place the baking sheet back in the oven and continue roasting for another 15 to 20 minutes or until the brussels sprouts are soft on the inside and a bit crispy on the outside.
When the brussels sprouts are done, remove them from the oven and let them cool for about 5 minutes prior to serving.
Sweet Potato Gratin
Serves 6
1½ cups heavy cream
1 (4-inch) sprig fresh rosemary
2 to 3 medium sage leaves
1 bay leaf
2 cloves garlic, minced
½ teaspoon salt
2 medium to large sweet potatoes
Salt and pepper to taste
1 cup shredded Swiss cheese
¼ cup grated Parmesan cheese
Preheat the oven to 400 degrees F.
In a small saucepan, add the heavy cream, rosemary, sage, bay leaf, and garlic. Bring just to a simmer and then turn off the heat. Stir in ½ teaspoon salt. Let the fresh herbs and garlic steep in the cream while you prepare the sweet potatoes. The cream should steep for about 5 to 10 minutes.
Peel the sweet potatoes and slice them about ¼-inch thick. Remove the fresh herbs from the cream and discard. Ladle 1 to 2 tablespoons of herbed heavy cream onto the bottom of the baking dish. Then place the first layer of sweet potato slices, overlapping a bit, onto the heavy cream.
Sprinkle with a pinch salt and dash pepper and then sprinkle with a ¼ to ⅓ cup shredded Swiss cheese. Ladle 1 to 2 tablespoons of heavy cream over the cheese.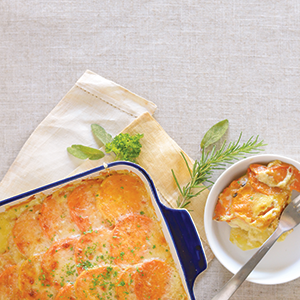 Continue with another layer of sliced sweet potatoes over the cheese and then repeat the process of salt and pepper, Swiss cheese, and heavy cream until you've completed 3 or 4 layers.
Pour any leftover heavy cream over the top of the last layer. Sprinkle on any remaining Swiss cheese and then sprinkle the grated Parmesan over the top.
Cover with foil and bake for about 45 minutes. Then remove the foil and bake uncovered for another 15 minutes.
Remove from the oven and let it cool for about 10 minutes prior to serving. This recipe can be doubled using a 9"x11" baking dish or 9"x13" baking dish.