Farm-fresh ingredients make family dinners sing with flavor—and this dinner menu just might hit the highest note. Winter brings a new season of fresh ingredients that create a welcoming aroma of soul-satisfying dishes. These mouthwatering recipes are filled with distinct flavors that are perfect for a cozy evening meal. Not to mention, they offer a warm and comforting respite to the short, chilly days of winter. From slow-cooked roasts and spiced seasonal fruit to creamy root vegetables and piping hot dinner rolls, tis the season for all things hearty, luscious, and heartwarming.
Homemade dinner rolls with whipped maple butter
Makes 12 rolls
1 cup warm water about 110 degrees F (slightly warmer than lukewarm)
¼ cup olive oil
¼ cup honey
1 package active dry yeast
½ teaspoon salt
1 egg, beaten
3 to 3½ cups all-purpose flour
2 tablespoons melted butter
Sea salt
Whipped Maple Butter:
½ cup (1 stick) unsalted butter, room temperature
¼ cup maple syrup
⅛ teaspoon salt
Lightly grease an 8"x11", 9"x11" or 9-inch round baking dish.
Add the warm water, olive oil, and honey to a mixing bowl or to an electric mixer and whisk. Then stir in the yeast until it's dissolved.
Next, whisk in the salt and beaten egg.
If using an electric mixer replace the whisk with the dough hook. If using a mixing bowl, you'll need a wooden spoon or use your hands.
Add about 3 cups of flour and mix until the dough comes together and is soft and slightly sticky. Use the additional ½ cup flour if needed.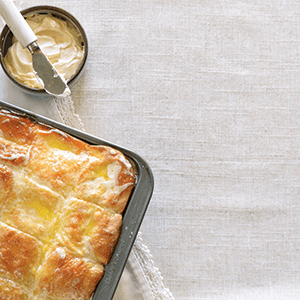 Then roll the dough out onto a floured surface and knead a few more times until the dough is smooth.
Pinch off balls of dough about 1½ inches in diameter and shape them into little round balls. You should have 12 total.
Arrange them in the lightly greased baking dish and then cover with a kitchen towel. Set them in a warm place in the kitchen and allow them to rise for about 1 hour.
To bake the rolls, preheat the oven to 400 degrees F. When the oven is ready, bake the rolls for 12 to 15 minutes. Brush the rolls with the melted butter and sprinkle with sea salt as soon as you take them out of the oven.
While the rolls are baking, make the whipped maple butter.
Add the room temperature (soft) butter, maple syrup, and salt to a mixing bowl or electric mixer. Whisk the butter for about 5 to 8 minutes or until it's nice and fluffy.
Serve the butter with warm rolls.
Italian pork roast with rosemary white beans
Serves 6
1 to 2 tablespoons high-heat oil
3 to 4 pounds pork butt or pork shoulder
Salt and pepper
1 large sweet onion, sliced
1 rib celery, diced
1 medium carrot, diced
4 cloves garlic, minced
¼ cup white balsamic vinegar
2 teaspoons dry Italian herbs
1 (14-ounce) can whole tomatoes with liquid
Salt and pepper to taste
2 to 3 cups beef broth
2 (14-ounce) cans cannellini beans with liquid
2 (4-inch) sprigs fresh rosemary
1 clove garlic, minced
1 tablespoon good quality extra-virgin olive oil
1 tablespoon cornstarch (optional)
Chopped fresh parsley, for garnish if desired
Preheat the oven to 350 degrees F.
In a large skillet or pot over medium-high heat, add a little oil. Season the pork with salt and pepper. When the skillet is hot, brown the pork on all sides. About 3 to 5 minutes on each side. Then transfer to a Dutch oven or ovensafe pot with a heavy, tight-fitting lid.
In the skillet, add the sliced onions, celery, carrots, and garlic and cook for 1 to 2 minutes to soften. Add the balsamic vinegar, dry herbs, and whole tomatoes. Season with a pinch salt and dash pepper. Pour this mixture over the pork. Add 1 cup of broth. The liquid should be about halfway up the pork roast.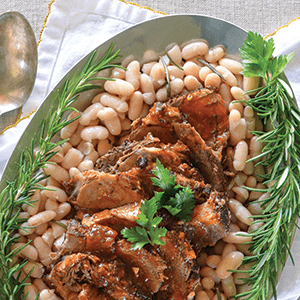 Cover with a lid and place it in the oven for about 2½ to 3 hours, checking every 30 minutes to be sure the liquid doesn't dry up. When the roast is tender, remove it from the oven and let it rest in the liquid.
While the pork is resting, prepare the beans. In a medium saucepan add the cannellini beans with liquid, rosemary, and garlic. Bring the beans to a simmer. Let the beans simmer for about 5 minutes, then remove the pan from the heat and let the beans rest. Season to taste with salt and pepper.
When ready to serve, ladle the beans onto a platter. Drizzle the beans with 1 tablespoon of extra-virgin olive oil. Then place slices or pieces of the pork over the beans. Strain the sauce and serve on the side as an au jus. Or, for a thicker gravy, strain the sauce and add it to a small saucepan. Heat over medium heat. Mix together 1 tablespoon cornstarch and 1 tablespoon cold water. Add this mixture to the sauce and bring to a boil. Let it simmer for 1 to 2 minutes and the sauce should thicken into more of a gravy.
Garnish with fresh chopped parsley if desired and serve with gravy.