A REMODEL BRINGS FUNCTIONALITY TO THE TABLE
Nestled in Newport Beach, California, the Port Streets community is a cozy haven for family living. Built in the 1960s and '70s, the neighborhood boasts multiple parks, pools, and a highly regarded elementary school. While the neighborhood may be a desirable environment for raising a family, the homes' original layouts can be less than ideal. When designer Anna-Marie Claassen of Anthology Interiors was asked by friends to renovate the first floor of their Port Streets home, creating a new floor plan was the first order of business.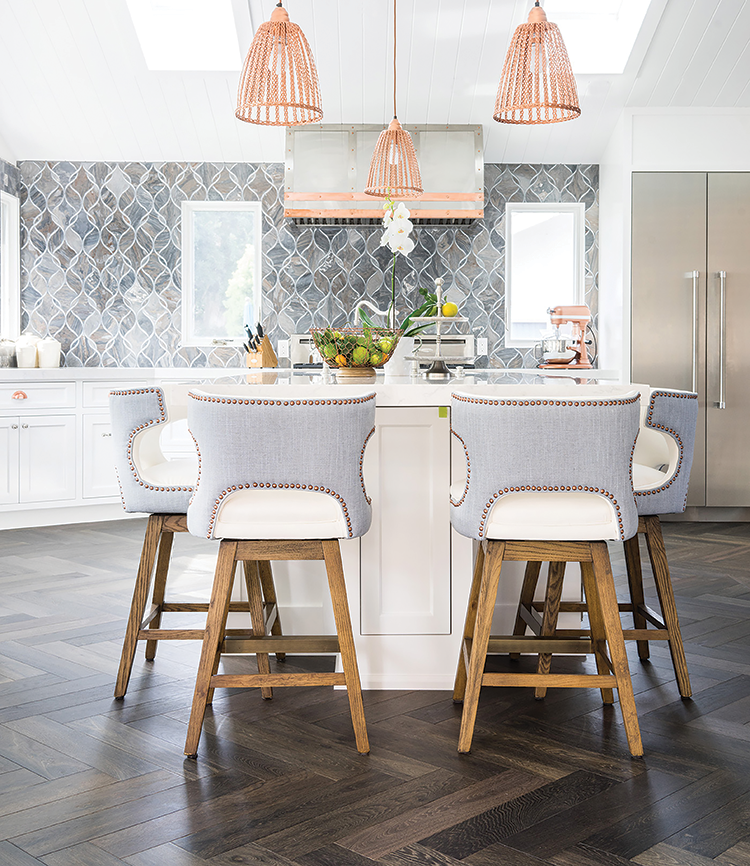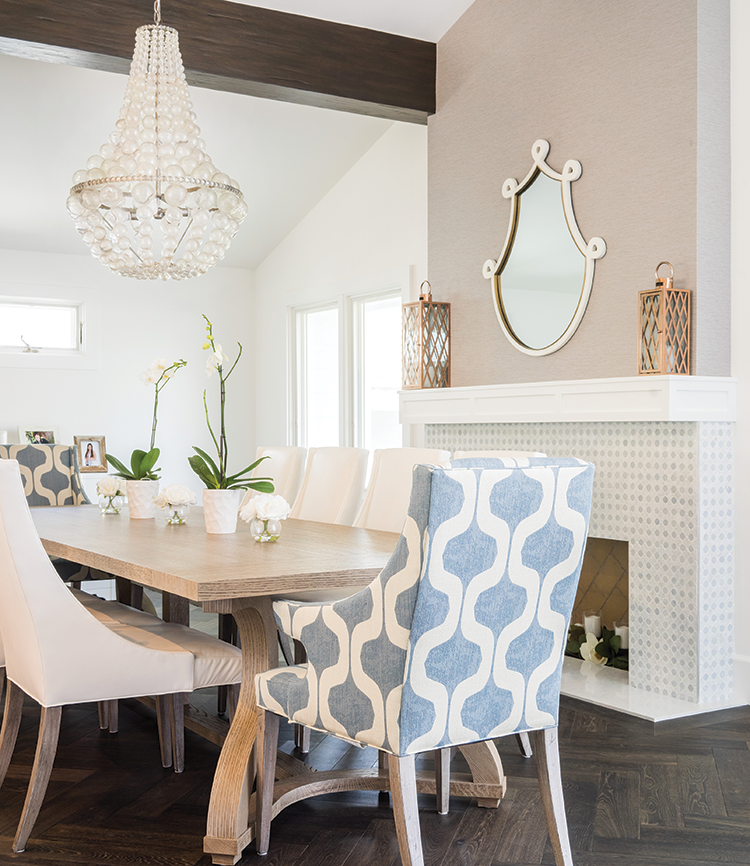 "lighting is the jewelry of the house"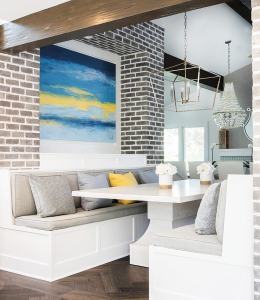 "We turned the formal living room into a formal dining room and then created this beautiful banquette in the middle of everything and expanded the kitchen," says Claassen, who owns the Corona del Mar, California–based design studio. "What they ended up with was three dining spaces, but they use them all: island seating, the banquette, and the more formal dining room."
Claassen's design process revolves heavily around her clients' lifestyles and, in this case, dining and entertainment spaces had to be the heart of the home. The mother loves to cook and bake, and with three older children, ample space was a must.
In the expanded kitchen, Claassen created a focal wall by carrying the swirled-marble tile backsplash to the ceiling. The Palisandro Bluette marble by Artistic Tile offered inspiration for the copper accents found throughout the room, from cabinet hardware and light fixtures to the range hood, which was custom crafted for the clients by a local artisan.
"This [kitchen] was really cool because it had so many windows, and we rearranged the skylights so they were symmetrical with the windows. Doing so really opened up the space," explains Claassen. "They still do have some upper cabinetry, but we really reduced the amount on that focal wall."
The kitchen island offers the family a casual spot to gather while dishes are prepared. Claassen and her team sourced stools and reupholstered them in a leather-like, white vinyl and textured gray fabric, adding rivets for a polished finish. "Most of my clients are families with kids, so I am very aware of the durability of fabrics," notes Claassen. "There's so much dining going on in this house that we did have to be very aware of [using] fabrics that are very washable."
In the adjoining banquette, durable fabrics not only add functionality, but dashes of color as well. Bright blues and yellows pop from artwork commissioned for the project, while the white benches and table keep the space looking roomy. Brick surrounds help define the comfortable eating space, leaving enough room on either side to walk through to the formal dining room.
Steps from the kitchen to the more formal space hint at the home's original layout, which featured a sunken living room. Some original features, however, Claassen was keen to keep. "We resurfaced the fireplace with some pretty tile and wallpapered above the mantel," says Claassen. The design team worked hard to maintain the existing fireplace, as California airquality measures have led to restrictions regarding new masonry fireplaces.
A bubble chandelier from Oly Studio brings a bit of light and whimsy to the more traditional space. "I wouldn't normally put so much [statement] lighting all together in a row the way they are here," says Claassen, "but these really did work. They're all so different, but none of them are overpowering the others." For the floors, the design team chose complete renovation. The rich, European oak wood in herringbone pattern is featured in all three dining spaces.
"My clients really do dictate the design," says Claassen. "This was a home with a little bit more of a traditional style. We started with that and went a little more on the transitional, traditional side than I normally do, but it really fit this family and they loved the results."
WRITTEN BY VICTORIA HITTNER / PHOTOGRAPHY BY LANE DITTOE
The homeowners commissioned California-based artist Leslie Saeta to create a piece specifically for the banquette space. "It brings in that nice punch of color where otherwise, it's very subdued," says Claassen. The design team pulled from the painting's palette to create complementary, fully custom cushions and pillows.
bright ideas
"Lighting is the jewelry of the house and it can really make or break a room," says designer Anna-Marie Claassen. Here, she offers some tips for choosing statement lighting.
Opt for functional. Claassen notes that you don't have to choose between practical and pretty when it comes to light fixtures. "Especially in cases where the [fixture] is the main lighting, you can really make a huge statement." Rely on can lights for any additional illumination and let your statement pieces shine.
Go for bold—or gold. "I'm really mindful of the tone [lighting] sets," says Claassen. "I love to use bright metals or a really interesting shape, or anything that catches your eye."
Keep some continuity. "Ask, 'What lights can you see all at once, and do they work together or not?'" suggests Claassen. In this Port Streets home, Claassen used fixtures with light, airy features in each space, allowing them to complement instead of compete against each other.